It's almost Halloween, and the season of spooky comes to an end. I'm going to miss it, but thankfully, there are sexy books to indulge in the shivery feeling of fear all year round.
Fear can be a great aphrodisiac, as long as you feel actually safe while experiencing the kick of adrenaline. Playing with fear can be as incongruous as watching a horror movie with your date (ah, the memories… 20 years ago, I watched Scream on my very first date with my husband), riding a rollercoaster, or something as elaborate as creating a kinky scene.
If that's already too real for you, worry not: I've got you. Below are a few romance book recs containing scary kinks and fear play, including my latest release, Skulls & Scares. This novella is part of my new Masters of The Manor series, which centers on the Masters of a private BDSM Club, The Manor (duh), in a rainy little town in the Pacific Northwest: Rainfall.
I love writing stories with the characters of Rainfall, so expect more of them in the future. They pop into my head faster than I can write them. I'm already done with Book 2, Pie & Punishment, which you can get it here. Book 3 is in the works.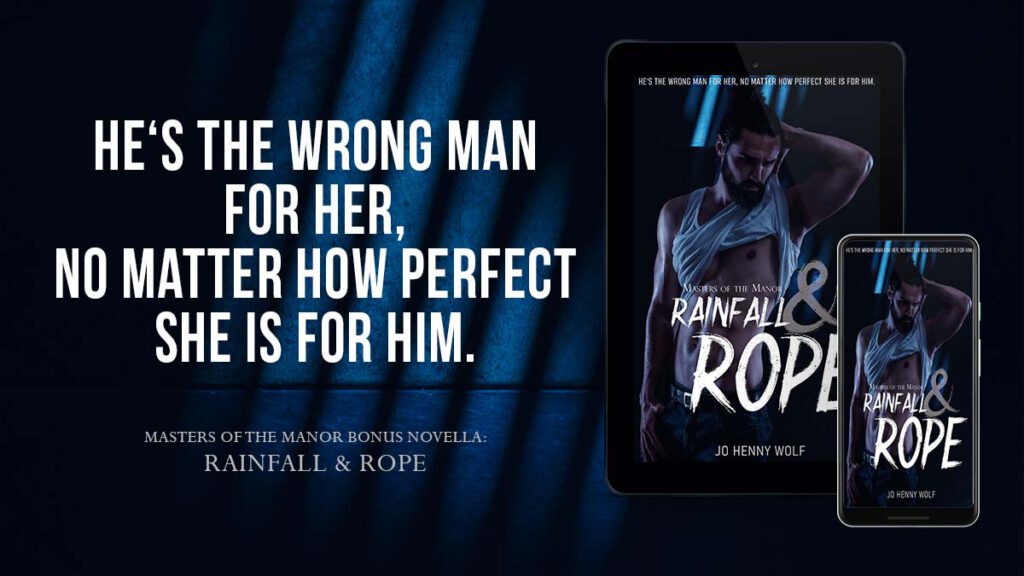 On to the romances containing consensual fear play – they're hard to find, but so rewarding.
Skulls & Scares by Jo Henny Wolf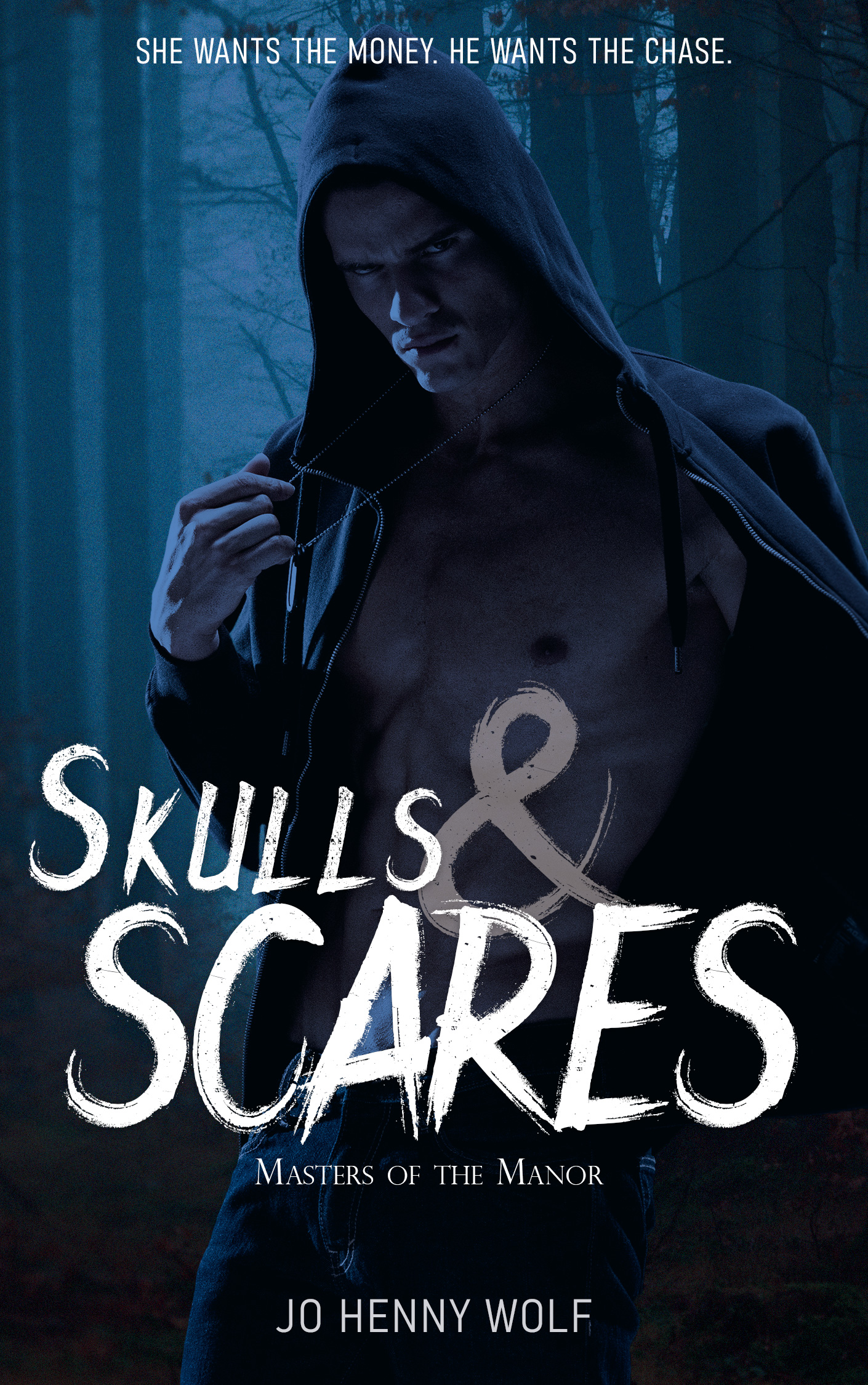 A Masters of The Manor Novella
When Thea Miller sells 34 plastic skulls to the gorgeous stranger at a garage sale, she doesn't know he takes her mother's life savings with him.
As the town's new resident psychiatrist, Charles Montgomery has a reputation to uphold; giving in to his desire for twisted games isn't on the agenda. But Thea is hard to resist, and when he catches her breaking into his house to steal the skulls back, he proposes a deal: a chase through the
woods. If she wins, the skulls are hers.
She wants the money.
One game of tag sounds easy enough, but there's something Thea has yet to learn: Charles never plays fair, and there's more on the line than money and plastic skulls.
He wants the chase.
His sweetness hides a thirst for her fear; will she follow him into the dark to play?
This romance novella contains elements of BDSM. The kinks: spanking, fear play, consensual non-consent, bondage, knife play, and abduction play.
And here are three of my favorite books containing fear play as kink. Of course, no list with this kink on Halloween can be complete without The Dare.
The Dare by Harley LaRoux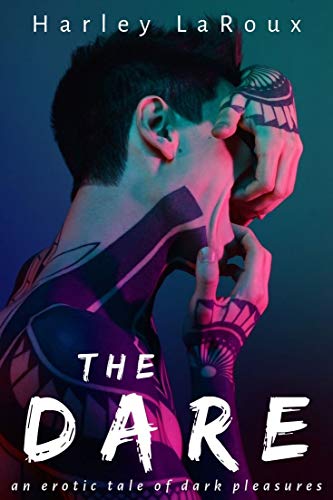 Jessica Martin is not a nice girl. As Prom Queen and Captain of the cheer squad, she'd ruled her school mercilessly, looking down her nose at everyone she deemed unworthy. The most unworthy of them all? The "freak," Manson Reed: her favorite victim. But a lot changes after high school. A freak like him never should have ended up at the same Halloween party as her. He never should have been able to beat her at a game of Drink or Dare. He never should have been able to humiliate her in front of everyone. Losing the game means taking the dare: a dare to serve Manson for the entire night as his slave. It's a dare that Jessica's pride - and curiosity - won't allow her to refuse. What ensues is a dark game of pleasure and pain, fear and desire. Is it only a game? Only revenge? Only a dare? Or is it something more? The activities depicted in this book are not meant to be realistic depictions of BDSM or safe kink play, this is strictly a work of fiction. These are the kinks within: erotic humiliation, fearplay, painplay, knifeplay, consensual non-consent (CNC), boot worship, spanking/impact play, clowns/clown costumes, spit, bondage, public play, group sex.
It's hard to find books scratching that itch for erotic humiliation just right. When I picked this book up the first time, I needed a fix — and I got so much more. The Dare reaches deep behind the layers of polite, acceptable desires and exposes the shameful, uncomfortable pleasures hidden beneath… and basks in them. Lingers.
With superb writing, consent is made clear even when it's not (yet) explicit. The scenes are so intense that sometimes, I had to stop reading and walk away to calm down. Even with the more unusual kinks, LaRoux's writing makes the desire palpable, believable — you believe her characters that they want this, even as it makes them as uncomfortable as the reader. That's art.
What makes the kink in this book stand out so much is that it's introspective and also active character development, a vital part of the story. It's THE story. It hits every pleasure point in my brain. (Also, when I want to read about boot worship, I want those boots kissed and licked, period. I want to get turned on. The Dare delivers.)
THE CHARACTERS
Jessica Martin starts out as your typical, popular mean girl cliché; maybe this is intended to make the reader feel like she deserves the humiliation her former bullying victim puts her through. She certainly feels like she deserves it herself. To me, that makes her slightly unsympathetic, as it's harder for me to get in the headspace of a bully than into that of someone yearning for degradation — but LaRoux reels me in. (Not that it's that hard; I'm always, always, always rooting for the right of unsympathetic female characters to be and do whatever they want.) I love the honesty with which Jessica looks at her desires. She steps away from her own harmful stereotypes through experiencing desire and not shying away from considering it honestly.
As the story is told entirely from Jessica's first person POV, Manson remains pale in comparison, but we get glimpses of what's going on inside him through his reactions — shock, wonder, lust, desire. He could easily remain wooden as a character, but he doesn't.
The writing is rich, sensual and sensory. Making people hot and bothered is a skill, and LaRoux has perfected it. For me, The Dare is like a pleasure shot straight to the system.
If you like this book, read her Dirty 1st Dates series, too — they're shorter, but just as hot!
FAVORITE QUOTE
"I had expected to feel my embarrassment turn thick and settle in my stomach, twist it like rotten food and leave me feeling ill. Instead, that feeling of embarrassment was turning into lust, and suddenly I was thinking about Manson pressing the sole of his boot down on my face."

The Dare by Harley LaRoux
CONTENT WARNINGS
I love that LaRoux gives a list of kinks in this book at the beginning; you get what it says on the tin, and it's so, so good. The kinks: erotic humiliation, fearplay, painplay, knifeplay, consensual non-consent (CNC), boot worship, spanking/impact play, clowns/clown costumes, spit, bondage, public play, group sex.
Cruel Idols by Sorcha Black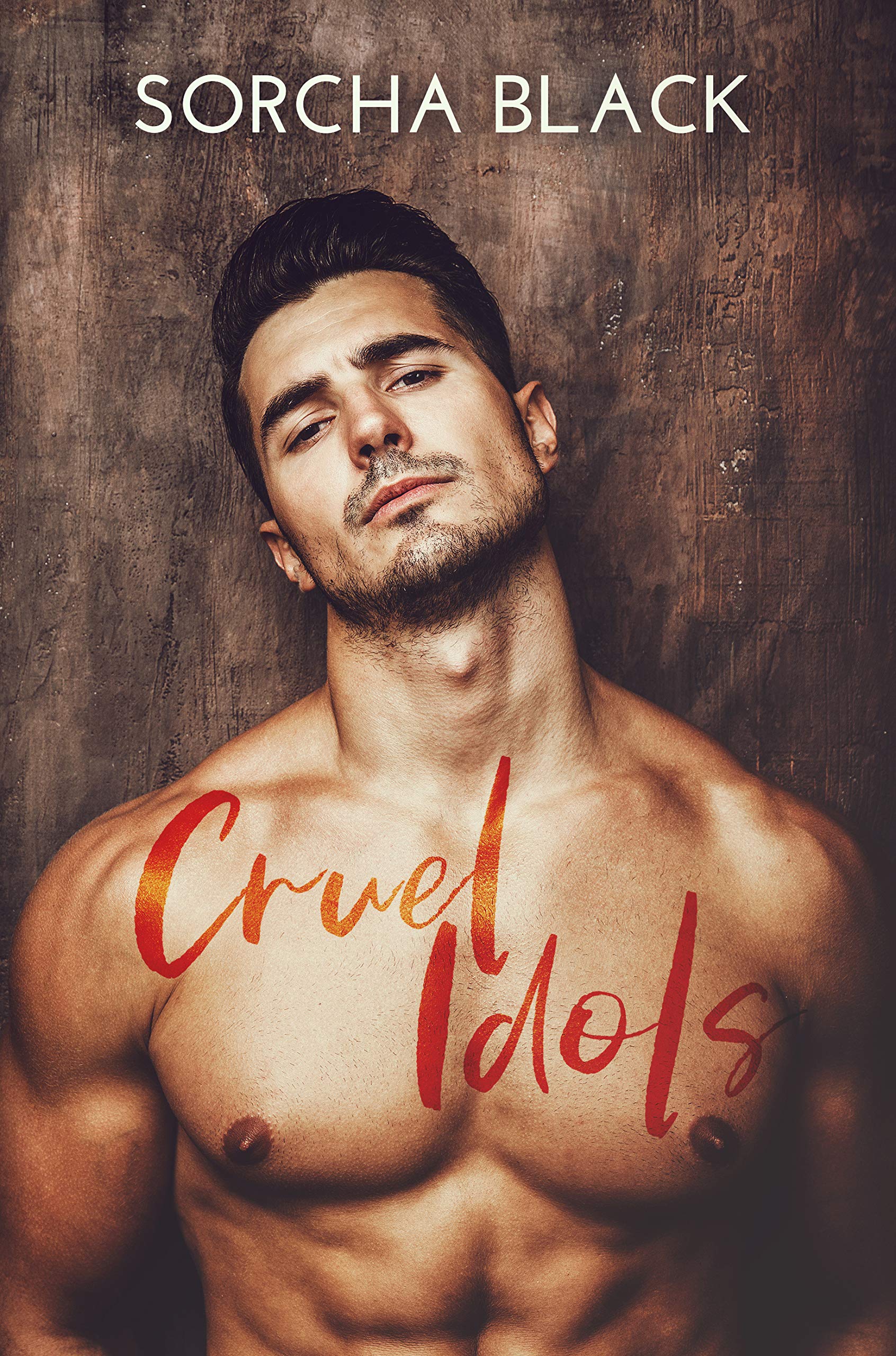 How can my favorite author be such a suspicious alphahole? All I wanted was an autograph, but Vandal Stokes is livid when he finds me on his property. The sketchy contract he makes me sign traps me alone with him and his gorgeous friend, Zero, for months. While we adjust to the awkwardness, Zero volunteers to be my writing mentor and assists me with my creepy research. Vandal can't resist getting involved, and the tension between the three of us ignites. Our situation feeds into my most sinister fantasies. Two against one. Twisted games. A dark basement. No neighbors. One torrid summer could very well change my life—and me—forever. *This rough romance contains dark themes, graphic sex scenes, and kink.*
At first, the premise made me hesitate, because a fan approaching a writer to get an autograph in her treasured book and then getting accused by said writer of trying to steal his manuscript is a recipe for epic second hand embarrassment. And I don't deal well with that (which is amazing, considering my thing for erotic humiliation, but that's my embarrassment and I'm in control of it). However, the realization of that premise is hilarious and sets the tone for the rest of the book: Vandal Stokes is every inch a dick, but Sadie meets his dickishness with acerbic, dry wit.
The title isn't lying: these men are unabashedly cruel, and they live out their desires and fantasies (in the name of research) with no holds barred. And yet. They're not cruel like many dark romance novel heroes are because they suffered terribly because of their families. Their families are fucked up, but it has explicitly nothing to do with their kinks — they're cruel because it gives them pleasure and they get sexual gratification out of some twisted games. Their shameless joy in making Sadie suffer is what makes them so fun!
THOUGHTS ABOUT THE CHARACTERS
Sadie's character is so fun, I want to hang out with her. I want her running commentary on my life, because I love her dirty mouth and take-no-shit-and-call-you-out attitude.
Vandal is and probably will always be a dick, but he grows on you. Like fungus. He's rough and mean and rude, but he's genuine in that, and when he finally opens up, if only for a glimpse, it's *Chef's kiss*. Plus, he so transparent, it's hilarious.
Zero remains a little pale in comparison, even though Sadie bonds with him quicker and he acts like the nice one on the surface. Maybe it's the switch-personality that makes him harder to grasp, because whereas he's submissive and a glutton for punishment with Vandal, he's all twisted dominant with Sadie. (On that note, I want a word-count- dom, too!)
THOUGHTS ABOUT THE PLOT
In my first read- through, I remember being so pissed, because their kinky little commune made writing look so easy! Sure, they grumbled about editors and feedback, but the whole process is so straightforward… it's a dream. I think writers writing writers write what they want to be (I love the English language, by the way). We want to hit our word-counts and deadlines effortlessly. We want success without the grind of crippling self-doubt. And some of us want the writing commune where the sexy dom spanks you for not meeting your daily goals.
What I love through every read-through is the angst of their unexpected love triangle (Is it a love triangle when you end up in a throuple?). Sadie is the interloper in an existing relationship between two men with issues. Her yearning to belong and her conviction that she has no place with them is heartbreaking — and I love that. Give me all the angst on top of the twisted kink-sundae!
FAVORITE QUOTE
"The tableau of him standing over Zero, gazing down at him with affection while Zero gazed up at him with adulation made me feel like the worst interloper, and also made me absurdly envious. What would it be like to have that kind of close attachment to another person—that kind of bond? To have someone be cruel and violent because it was what you enjoyed, and trusting them to stop before it all became too much?"

Cruel Idols by Sorcha Black
CONTENT WARNINGS
The kinks in this book are heavy: there's consensual non-consent, where things get uncomfortable and sometimes painful, but Sadie always has a safe word. Vandal and Zero fuck with her mind by playing on her doubts if they'll heed her safe word, but one of them is always conscious of her well-being and on the lookout for signs that things went too far. There are spankings, biting, capture/ kidnapping role play, knife play, fear play, rough pet play, spit, degradation. Seriously, this book walks the line, making it all consensual with an exciting edge, because we as readers follow along with Sadie's doubts and always wonder: will they really stop?
Captivated by Tessa Bailey and Eve Dangerfield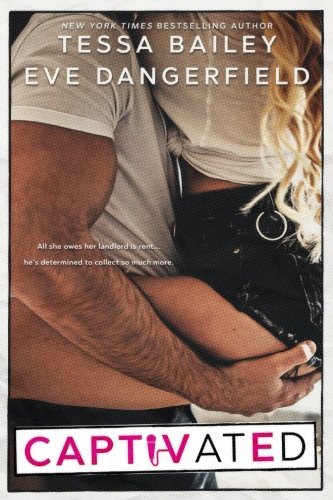 Secret aspiring comedian Autumn Reynolds is a girl gone...not wild exactly. More like lazy. Since her boyfriend abandoned her in New York City for a bunch of improv groupies she's had two priorities; sucking the nitrous out of whipped cream cans and making sex comics about her mysterious landlord. Blake hates people-and sunlight-with good reason. Imagine his surprise when he finds himself lusting after his upstairs tenant, a sunny, Australian people pleaser down on her luck. Turns out his ability to terrify with a single scowl comes with an advantage. Autumn seems to like it. A lot. As evidenced by the prisoner-captive comic Blake was never meant to see. As they embark on a three-date arrangement the rules are clear; filthy, ground breaking sex, no feelings or commitment required. When chemistry is this strong, though, attachment follows. As Blake and Autumn attempt to negotiate their New York romance, their prior histories and secret dreams come to the foreground. How long can these polar opposites remain Captivated, when all signs point to disaster?
This book shows that a story about getting dark, scary capture fantasies fulfilled doesn't actually have to be dark and scary. "Captivated" is a fluffy, sunshine-warm snuggle-blanket of a story, a beauty-and-the-beast treat that is at once hilarious and sexy and fucking deep. Autumn is an Australian ray of sunshine who wants to do stand-up comedy, while Blake is a hulking beast of a man who detests sunshine, people, and the outside. They couldn't be more different, and yet they find out that they both gravitate towards the same dark fantasies — about each other, no less — through a hilarious accident. The meet-by-embarrassing-fuck-up alone makes this one of my favorite romances ever.
THOUGHTS ABOUT THE CHARACTERS
I can't help but picture Autumn as Emilie deRavin. She's blonde, smol, Australian, and she's the sunshine drawing Blake out of his self-imposed isolation. She's goodness and warmth and has the snarkiest voice. I just love her.
Blake is silent, and very aware of his size and perma-scowl. He's perceptive as fuck, with some giant blind spots that lead to delicious fuck-ups and angst. Holy shit, this book is so good, I can't stand it!
FAVORITE QUOTE
"She'd looked across the candlelit dining table and seen the bookend to her own desires simmering in those incredible light brown eyes. Blake was excited by this as much as she was, and maybe he was afraid of it, too. Afraid of what it said about him as a man."

Captivated by Tessa Bailey & Eve Dangerfield
CONTENT WARNINGS
Blake and Autumn share a capture fantasy kink and embark on exploring it together. Despite the dark nature of their games, there's never a moment where their play veers into actual non- consent territory. This is so brilliantly done. I want to print out this story and roll around in it and soak up the fluffy, sweet darkness through osmosis. The kinks/fetishes in this book are stalking, degrading language, capture, restraining.
Are there other books you'd like to recommend? Tell us about it in the comments!