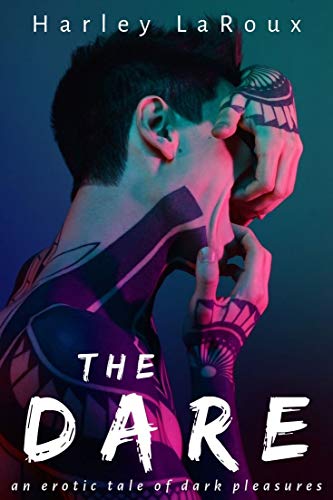 Jessica Martin is not a nice girl. As Prom Queen and Captain of the cheer squad, she'd ruled her school mercilessly, looking down her nose at everyone she deemed unworthy. The most unworthy of them all? The "freak," Manson Reed: her favorite victim. But a lot changes after high school. A freak like him never should have ended up at the same Halloween party as her. He never should have been able to beat her at a game of Drink or Dare. He never should have been able to humiliate her in front of everyone. Losing the game means taking the dare: a dare to serve Manson for the entire night as his slave. It's a dare that Jessica's pride - and curiosity - won't allow her to refuse. What ensues is a dark game of pleasure and pain, fear and desire. Is it only a game? Only revenge? Only a dare? Or is it something more? The activities depicted in this book are not meant to be realistic depictions of BDSM or safe kink play, this is strictly a work of fiction. These are the kinks within: erotic humiliation, fearplay, painplay, knifeplay, consensual non-consent (CNC), boot worship, spanking/impact play, clowns/clown costumes, spit, bondage, public play, group sex.
It's hard to find books scratching that itch for erotic humiliation just right. When I picked this book up the first time, I needed a fix — and I got so much more. The Dare reaches deep behind the layers of polite, acceptable desires and exposes the shameful, uncomfortable pleasures hidden beneath… and basks in them. Lingers.
With superb writing, consent is made clear even when it's not (yet) explicit. The scenes are so intense that sometimes, I had to stop reading and walk away to calm down. Even with the more unusual kinks, LaRoux's writing makes the desire palpable, believable — you believe her characters that they want this, even as it makes them as uncomfortable as the reader. That's art.
What makes the kink in this book stand out so much is that it's introspective and also active character development, a vital part of the story. It's THE story. It hits every pleasure point in my brain. (Also, when I want to read about boot worship, I want those boots kissed and licked, period. I want to get turned on. The Dare delivers.)
THE CHARACTERS
Jessica Martin starts out as your typical, popular mean girl cliché; maybe this is intended to make the reader feel like she deserves the humiliation her former bullying victim puts her through. She certainly feels like she deserves it herself. To me, that makes her slightly unsympathetic, as it's harder for me to get in the headspace of a bully than into that of someone yearning for degradation — but LaRoux reels me in. (Not that it's that hard; I'm always, always, always rooting for the right of unsympathetic female characters to be and do whatever they want.) I love the honesty with which Jessica looks at her desires. She steps away from her own harmful stereotypes through experiencing desire and not shying away from considering it honestly.
As the story is told entirely from Jessica's first person POV, Manson remains pale in comparison, but we get glimpses of what's going on inside him through his reactions — shock, wonder, lust, desire. He could easily remain wooden as a character, but he doesn't.
The writing is rich, sensual and sensory. Making people hot and bothered is a skill, and LaRoux has perfected it. For me, The Dare is like a pleasure shot straight to the system.
If you like this book, read her Dirty 1st Dates series, too — they're shorter, but just as hot!
FAVORITE QUOTE
"I had expected to feel my embarrassment turn thick and settle in my stomach, twist it like rotten food and leave me feeling ill. Instead, that feeling of embarrassment was turning into lust, and suddenly I was thinking about Manson pressing the sole of his boot down on my face."

The Dare by Harley LaRoux
CONTENT WARNINGS
I love that LaRoux gives a list of kinks in this book at the beginning; you get what it says on the tin, and it's so, so good. The kinks: erotic humiliation, fearplay, painplay, knifeplay, consensual non-consent (CNC), boot worship, spanking/impact play, clowns/clown costumes, spit, bondage, public play, group sex.