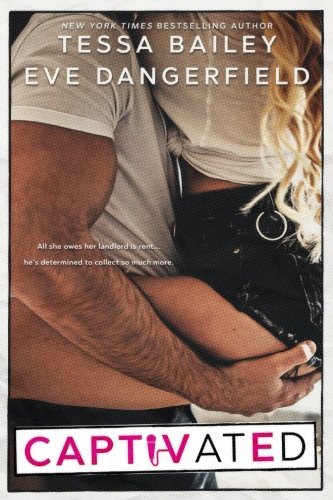 Secret aspiring comedian Autumn Reynolds is a girl gone...not wild exactly. More like lazy. Since her boyfriend abandoned her in New York City for a bunch of improv groupies she's had two priorities; sucking the nitrous out of whipped cream cans and making sex comics about her mysterious landlord. Blake hates people-and sunlight-with good reason. Imagine his surprise when he finds himself lusting after his upstairs tenant, a sunny, Australian people pleaser down on her luck. Turns out his ability to terrify with a single scowl comes with an advantage. Autumn seems to like it. A lot. As evidenced by the prisoner-captive comic Blake was never meant to see. As they embark on a three-date arrangement the rules are clear; filthy, ground breaking sex, no feelings or commitment required. When chemistry is this strong, though, attachment follows. As Blake and Autumn attempt to negotiate their New York romance, their prior histories and secret dreams come to the foreground. How long can these polar opposites remain Captivated, when all signs point to disaster?
This book shows that a story about getting dark, scary capture fantasies fulfilled doesn't actually have to be dark and scary. "Captivated" is a fluffy, sunshine-warm snuggle-blanket of a story, a beauty-and-the-beast treat that is at once hilarious and sexy and fucking deep. Autumn is an Australian ray of sunshine who wants to do stand-up comedy, while Blake is a hulking beast of a man who detests sunshine, people, and the outside. They couldn't be more different, and yet they find out that they both gravitate towards the same dark fantasies — about each other, no less — through a hilarious accident. The meet-by-embarrassing-fuck-up alone makes this one of my favorite romances ever.
THOUGHTS ABOUT THE CHARACTERS
I can't help but picture Autumn as Emilie deRavin. She's blonde, smol, Australian, and she's the sunshine drawing Blake out of his self-imposed isolation. She's goodness and warmth and has the snarkiest voice. I just love her.
Blake is silent, and very aware of his size and perma-scowl. He's perceptive as fuck, with some giant blind spots that lead to delicious fuck-ups and angst. Holy shit, this book is so good, I can't stand it!
FAVORITE QUOTE
"She'd looked across the candlelit dining table and seen the bookend to her own desires simmering in those incredible light brown eyes. Blake was excited by this as much as she was, and maybe he was afraid of it, too. Afraid of what it said about him as a man."

Captivated by Tessa Bailey & Eve Dangerfield
CONTENT WARNINGS
Blake and Autumn share a capture fantasy kink and embark on exploring it together. Despite the dark nature of their games, there's never a moment where their play veers into actual non- consent territory. This is so brilliantly done. I want to print out this story and roll around in it and soak up the fluffy, sweet darkness through osmosis. The kinks/fetishes in this book are stalking, degrading language, capture, restraining.