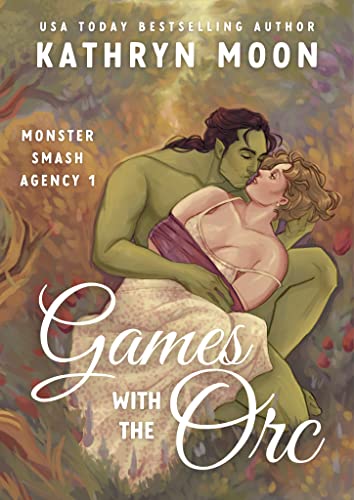 Sunny has spent years of her life hiding from her own desires and hiding them from those she loves. Forced to face the idea of denying that part of herself forever, Sunny takes a nose dive out of her routine and into her fantasies. All she needs is the help of Monster Smash Agency and one exceptionally talented Orc. Khell'ar has mastered his work with Monster Smash Agency, satisfying his clients with perfect expertise. Guiding inexperienced Sunny into a new realm of extreme pleasures should be easy, simple. All he has to do is follow her requests, play his part, and not form a mating bond. But Sunny is orc bait, and Khell'ar is more than even her wildest dreams could concoct.
Games with the Orc is such a wholesome, sweet, and hot story! Khell'ar and Sunny are well rounded characters that are perfect for each other, and the tension growing between them from the start is so well done. Kathryn Moon is so good at writing emotional pining. Once Khell and Sunny start falling for each other and all the hard to ignore feelings come out to play, the tension is just delicious.
You can see how they're perfect for each other, how their kinks match up (holy hotness! They're on fire!), and it's so sweet how Khell cares for Sunny, finishing her tasks, tidying up after her, and giving her exactly what she needs in the bedroom, too.
It's a quick, perfect read that has it all: monster love, characters who feel real, kink, and sweetness.
Favorite Quote
Play it safe, I thought. Work up to her limits, don't try and find them from the start. Except there was an energy surrounding this woman, almost feverish and impatient. And the predator in me, only allowed out in measured doses, wanted to make her jump and skitter as she ought to in my presence.
Keywords
Size difference
Plus size heroine
Sex worker hero
Magical cock
Sweet and wholesome primal play