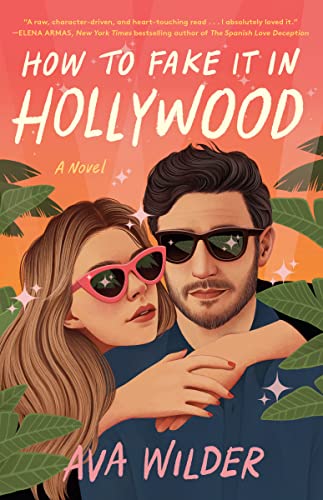 Grey Brooks is on a mission to keep her career afloat now that the end of her long-running teen TV show has her (unsuccessfully) pounding the pavement again. With a life-changing role on the line, she's finally desperate enough to agree to her publicist's scheme: fake a love affair with a disgraced Hollywood heartthrob who needs the publicity, but for very different reasons. Ethan Atkins just wants to be left alone. Between his high-profile divorce, struggles with drinking, and grief over the death of his longtime creative partner and best friend, Ethan has slowly let himself fade into the background. But if he ever wants to produce the last movie he and his partner wrote together, Ethan needs to clean up his reputation and step back into the spotlight. A gossip-inducing affair with a gorgeous actress might be just the ticket, even if it's the last thing he wants to do. Though their juicy public relationship is less than perfect behind the scenes, it doesn't take long before Grey and Ethan's sizzling chemistry starts to feel like more than just an act. But after decades in a ruthless industry that requires bulletproof emotional armor to survive, are they too used to faking it to open themselves up to the real thing?
I hate it when books make me cry! (That's a lie. I love it).
This was really deeply character driven, and so, so good. I've been put through the emotional wringer. Just, wow. At around 87%, I didn't think a happy ending was possible, but Wilder pulled it off. KUDOS!
Grey and Ethan are both incredibly real from the start (I want to be able to pull that off!). I was hesitant to read a romance about actors in Hollywood as it's generally not a topic I'm interested in, but they're both so, so cute! I love how excruciatingly slow burn and tentative their romance is. How afraid they both are, and at the same time, how much they yearn for each other. Both of them are three-dimensional human beings with flaws and problems, and it's heartbreaking, and unfair, and so totally, brutally consequent. I want to cry and wallow with Grey as she decides how to deal with the situation Ethan's alcoholism puts her in.
They are so painfully, painfully awkward! It's heartbreaking. Ethan is incredibly brave putting himself forward, flaws and all, and seeing Grey overwhelmed and afraid to accept it makes me ache. All that Angst! My heart. He is so flawed, his struggle so visceral.
I didn't expect such a deeply emotional romance set in Hollywood, so this totally blew my mind. All the Stars!
Favorite Quote
"You know what the worst part is? I don't think it was even about me. Our relationship. I could've been anyone. He was like . . . like this starving lion, and I was just the first gazelle to wander into his path." Tears welled in her eyes. "I don't know if he ever really loved me. I was just something else to be addicted to. To lose himself in. Postpone the midlife crisis a little longer, or whatever."
Keywords
Hollywood Romance
Fake Relationship
Struggle with Alcoholism/Addiction
Age Gap
Similar Reads:
Hollywood themed:
Blacklist Hookup by Sadie Haller (Fake relationship with BDSM between actors)
Darke by Saber Vale (Age-gap, BDSM, dark, young actress falls for producer, twisted and emotional)