Today, I'm thrilled to host Gail Williams, fellow author of the Sinful Pleasures Anthology (it's out now, go grab your copy!!!). She writes about her inspiration for "Taking It" and shares a steamy excerpt with us!

Take It Where You Find It
By Gail Williams
Take inspiration where you find it, that is.  There is inspiration everywhere, and sometimes it comes in the form of an open submission from a publisher.  And sometimes it's a left of field inspiration too, and for me that's what a call for Sinful Press was.
See, erotica isn't something I usually write.  When I started writing for publication, I was a big reader of Mills & Boon and so I wrote a lot about romance.  But those novels kept being rejected because – and this is an actual quote from a Mills and Boon rejection letter – they said I gave the books "too much plot."  Immediately after that, I tried removing the plot and just writing the sex.  It seemed logical at the time.  Had no luck there either.  To be fair I think that was because I was being too 'romantic' about it, and I was probably too young, not experienced enough to pop my porn writing cherry at that point.
So from there I turned to crime – writing contemporary crime that is. Over the years, I've tried horror, fantasy, steampunk, general fiction, even some non-fiction comics reviews.  But the more I wrote – yes including the last because that's about someone else's writing – the more I read, the more I realise that, whatever is written, whatever the form, whatever the genre, it's really all about the human condition.
One major factor within the human condition is the need to connect with other humans. Add that to the urge of the selfish gene, and you get to the requirement for sex.  For those who struggle with opening themselves up emotionally, the physical is a 'safer' way to make that connection.  It's a odd truth that often the last thing that sex is about is actually sex, there's power and control, taking rather than giving, love and hate all hidden inside.  In different stories, I've written about all of those things in the act of physical coupling.  But when I heard about the Sinful Press open call for short stories, all these thoughts crowded around.
I was also aware that for this particular collection, I didn't want the story to just be about sex, it had to also be about two people being drawn together.  And if there is one thing that draws together, it's the sides of a corset as you tighten the strings.  That resonates with people drawing closer, with the strings and bindings of love.  But it begged the question, why would the main characters be in a situation where that could even start?
Well, if you come back to control and power, the most likely power play situation that people will find themselves in is the work place.  And I know corsets, love corsets.  I wear corsets to work sometimes, so I know that the situation has real life potential.  But could I make it real, could I make it work?
Well, I tried.  The start was easy, I knew where it had to start, but wasn't sure about the how to end it.  I know what the final situation was, but finding the right way to show that – nightmare.  Thankfully I have critical friends.  They are critical to me, but not of me, they are however, critical of my work – not in a bad way, in the "let's pull this apart to make it better" kind of way.   I was told in no uncertain terms – no fairytale endings allowed, no miserable or abusive endings, so I just had to look for that happy medium.  Sounds easy when you say it like that.  It wasn't easy.  But I got there in the end.
So on 20 August, Sinful Pleasures is released and you can judge for yourself if I found that right note.
And, one a final note, if you like women in corsets, I also write steampunk and I have a very determined young woman in a corset, setting all kinds of strings around a very tightly bound gentleman in my forthcoming novel "Shades of Aether" to be released at the end of August.  For more details on that follow me on Twitter @ShadesOfAether.
But, just for now, why don't you go get tied up in a good book, in whatever niche you have a preference for.
Excerpt from "Taking It"
Sinful Pleasures
I'm staring at the computer screen, trying to focus, when my mobile whistles. A text.
Top services door. Five minutes, Plaything.
A grin appears on my face before I can contain it and I check the office to see if anyone has noticed, but thankfully they are all as busy as I am. Five minutes. Not long. Yet it feels like a lifetime before I'll be with him. Released by him.
Dear God when did I turn submissive?
The second that man touched me is when, but it won't last.
Fletcher will play with me for a while, but like all boys, he'll grow bored of his toy and discard it, discard me. That idea should hurt, but my need right now overwhelms my concerns for the future, and I give up trying to hide the smile as I start up the deserted stairwell. At the top, I find the door is locked, but I don't have long to wait.
Slow measured steps echo through the concrete space. My pulse runs a sprint. He'll be here any second. I close my eyes and draw my bottom lip between my teeth. The footfalls stop and I know he's standing in front of me. I can't see him, but I know. I recognise his scent—spice and musk—Him. I keep my eyes closed, but I feel the heat as he steps closer. He doesn't speak.
His fingertips brush the skin of my throat then travel down to grip the scarf and pull it away. Next the button of my jacket is freed before the material is brushed aside. I push forward, only my head against the door, to allow him to ease the jacket from my shoulders and down my arms.
His hands touch my neck, his fingertips drawing patterns across the back of my scalp, and my lip comes from between my teeth as I draw in a breath. His thumbs move around my throat and he squeezes gently. My eyes spring open; I don't speak as he shushes me. His eyes are dark, his own breathing laboured. The pressure tightens, but not painfully.
"Like?"
His word is just a whisper. Knowing that sound travels far on these stairs, I answer with a small nod. He smiles triumphantly. For a moment the hold becomes painful, but only a moment. His hands move down, kneading my breasts, before moving again and circling my waist. Then he crunches over as he grabs my bottom. Suddenly I'm pulled up off my feet, his body pressing against mine, pushing me into the door, squashing me in the most delicious way. The closeness assures me of his arousal, hard and hot at my Mount of Venus. There are too many clothes between us.
I wriggle, panting as I look at him. His face is so close. I really want to kiss him. Well I want him to kiss me; I'm his plaything, he has to make the play. He grinds his groin into mine.
I bury my head into the angle between his neck and his shoulder as a small whimper escapes me.
"Want?"
It's little more than a breath. I nod again, and feel his silent chuckle. He rocks against me, picking up pace as I cling to him. I'm light headed with need and can take no more, clamping my jaw to hold in a moan as the climax overtakes me.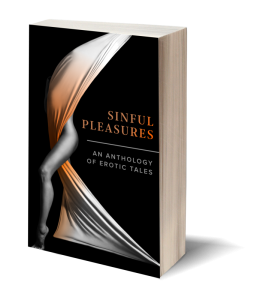 Blurb
Sinful Press welcomes you to lose yourself in Sinful Pleasures.
Join us as we weave our way from mainstream erotic romance to surreal sex-filled dreamscapes and everything in between, created by some of the best new and established voices in the erotica genre.
Janine Ashbless, Ella Scandal, Sonni de Soto, Jo Henny Wolf, Lily Harlem, Lady Divine, Gail Williams, Samantha MacLeod, Tony Fyler, Ellie Barker, Lisa McCarthy
Buy links
Google Play
iTunes
Support your small publisher and buy the paperback direct
Author bio
Gail B Williams lives in her own private dungeon populated with all the weird and the wonderful she can imagine.  Some of it's very weird, and the odd bits and pieces are really quite wonderful.  With a vivid imagination, there was no other choice for Gail than to write, something she's been doing her for as long as she can remember.  Gail is English by birth, but lives in Wales, married a Welshman and have two fantastic children. They live with the world's most imperious and demanding cat.
Enjoying the whole range of human experience, Gail has a collection of short crime stories out, "Last Cut Casebook", and a full length crime novel "Locked Up", and steampunk novel "Shades of Aether" both being published in Autumn 2017.  For more information on the books, and her blog, find out more see www.gailbwilliams.co.uk.