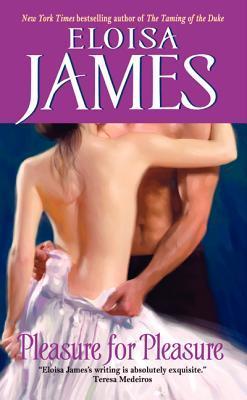 Fueled by the knowledge that notoriety is better than failure, witty, unconventional Josie does what no proper young lady should—she challenges fate. She discards her corset and flirts outrageously. She attends the horse races and allows an arrogant rakehell to whisk her behind the stables for a surreptitious kiss . . . and is caught! She doesn't want to marry the young hellion—but who's to help? Her chaperone keeps disappearing for mysterious appointments; her guardian is on his wedding trip; and his friend the Earl of Mayne is too busy staring into the eyes of his exquisite French fiancÉe. Can a marriage forced by stuffy convention and unwilling desire become the match of the season?
Why I loved this book: Seriously one of the hottest, sexiest, most sensual first kisses. I sometimes reread just this kiss, because it gets me every time. This book has actually two age-gap pairings in both constellations, woman-younger and woman-older. Like often with James' books, it's not immediately clear who's whose love interest. Her books can be hit or miss; she's written some romances I absolutely loathe, but also two of my absolute all time favorites, and this is one of them. Plus, if you like to listen to your pleasure, Susan Duerden is a stellar narrator. Her heroes are some of the sexiest intonations. Her voice is like sex for the ears.
Content Warnings: attempted assault. Body shaming. Kind of cheating? The synopsis doesn't make it quite clear, but the rake it speaks of is NOT the hero of this book.