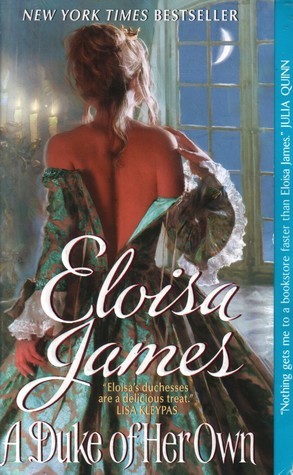 A duke must choose wisely . . . Leopold Dautry, the notorious Duke of Villiers, must wed quickly and nobly—and his choices, alas, are few. The Duke of Montague's daughter, Eleanor, is exquisitely beautiful and fiercely intelligent. Villiers betroths himself to her without further ado. After all, no other woman really qualifies. Lisette, the outspoken daughter of the Duke of Gilner, cares nothing for clothing or decorum. She's engaged to another man, and doesn't give a fig for status or title. Half the ton believes Lisette mad—and Villiers is inclined to agree. Torn between logic and passion, between intelligence and imagination, Villiers finds himself drawn to the very edge of impropriety. But it is not until he's in a duel to the death, fighting for the reputation of the woman he loves, that Villiers finally realizes that the greatest risk may not be in the dueling field . . . But in the bedroom. And the heart.
Why I love this book: Because this is the other one. Also, Villiers. That's it. One of my favorite heroes. Plus, Eleanor is a feisty heroine who knows what she wants. And despite the premise putting her in opposition to the mentally ill Lisette, there's no ill will between the two women and no "catfight." The love triangle gets drawn out much too long, but the depth of emotion between Villiers and Eleanor makes up for it. Plus, the audio narration by Susan Duerden is outstanding.
Content Warnings: Mental Illness, animal cruelty, child abuse and neglect.