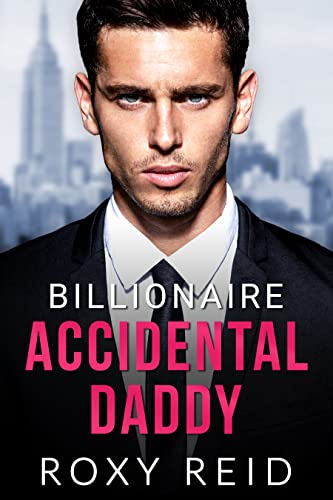 My grumpy boss is my baby's daddy, But I haven't told him yet. All I wanted was a bagel, Then Mr Gump-hole cuts in line, With his steel-blue eyes and his smoldering scowl, And ruins my day. Now he's my new boss, And he's doing everything he can to ruin my life. In the office he's practically a tyrant, But with his little daughter he's the perfect dad. When he summons me to his office, I'm sure I'm about to get growled at, But he asks me to be his fake fiancée, To help him save his company. Faking an engagement with a chisel-jawed hottie, Is hard enough, Then we have to share a bed, And my willpower runs out. I pretend it's only raw physical connection, Secretly I want more. But he's demanding, grouchy, never apologizes and our fake engagement is only for six months. Then we're supposed to go our separate ways. Except the positive pregnancy test says otherwise, And this is one secret I can't keep. Billionaire Accidental Daddy is a steamy fake fiancé enemies-to-lovers romance. It's a full length stand-alone novel with no cheating, no cliff hangers and a gorgeously romantic happily ever after.
This book is brilliant.
Laugh-out-loud funny, heartwarming, swoony. He falls first and hard. I wouldn't class it as a real enemies-to-lovers romance, as they only dislike each other during their first meeting. After that, they work really well together — up until the big third act crash. Their fake relationship feels real from the start, and there's a legitimate reason for them to fake it — and their falling out is as character driven as their falling in love is.
This is such a heartwarming and well crafted romance. I could kick myself that I almost skipped it because of the corny title.
There's only one thing bugging me: WHAT HAPPENED TO THE CAT?
It's Schrödinger's cat in fiction.
The Quote most hounding me
I imagine going home to my cat and explaining we have to take him off wet food because Mamma lost another job. I should have adopted a cat with less expensive taste.
This is the only place the cat is ever mentioned throughout the whole book. Shortly after, Amelia moves in with Cole, and there never is another mention of the cat. Is it imaginary? Does it exist? Does it remain in the old apartment, alive until proven dead? I really wondered if the cat was just hypothetical, but even so, that should have been made clear in the text, and that sentence up there is ambiguous at best.
Keywords:
grumpy/sunshine
fake engagement
accidental pregnancy
billionaire
boss/employee
P.S. SAVE THE CAT!