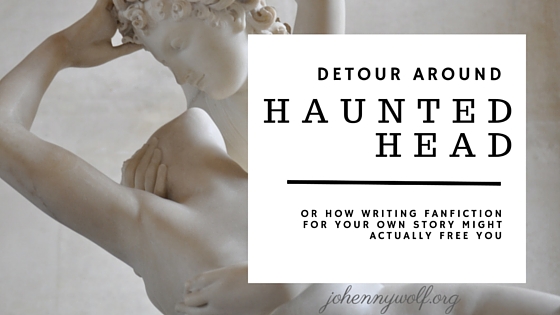 I developed a bit of a condition here… I'm still on my daily wordcount goal of 300 words, and after I had a bit of a slump, not writing a word for several days, I began to count anything into my wordcount out of sheer despair. Blog posts. Emails. Everything. Then I started a short story that has lingered in my head for a while now, but even this didn't get the juices flowing. Then I decided to write something that haunted me.
You know how you can develop a so called ship? I didn't know what this meant until I entered tumblr and somehow slid into the depths of a fandom. Well, I know how it felt to ship a character with another, but I didn't know there was a whole terminology for it (yes, I googled "OTP" – it means One True Pairing, just for the record). I didn't know this could happen with my own characters. I mean, sometimes it's intended to happen (writing romance without a ship is not a good idea), but in my case, it's not. These two characters can under no circumstances end up in any relationship whatsoever, especially since one of them is the villain (yes, my antagonist is also a villain, happens to the best of us) and the other one is the hero of my story. They're opposed in insuperable conflict that ends with one of them dead.  But I ship them so hard. So I decided to give me some writing practice and write my own fanfiction. Let them get hot and steamy with each other without any intention of ever – ever – including it in the book (let alone let it see the light of day). Without any intention of even fitting it into the story.
And suddenly, I write 3000 instead of 300 words a day. Might be that this is without merit, since it's written with the specific premise of never seeing a printing press. Perhaps I waste my days. But I don't think so. It gets my creative mojo flowing, and I try to incorporate some writing exercises. I think it's not the what you write everyday that is important, but the that you write everyday.   (Uh, sorry for any deadly grammatical sins I committed here). The more words you produce, the more likely it is there are some gems among them. And if not, it's still easier to work with already written words than to produce brilliance from scratch.
And it helps me to free my head from any haunting shipper feels that could invade my story. They're all packed up now, neat and tidy, in their own folder. And hey, if you never write just for your own fun, why you're doing this at all? Yes, being a writer includes seeing writing as your job, but what good is it if you have absolutely no fun in your job? Right, you're likely going to quit or develop a serious stress disorder.
So, have fun, stay positive and write your own fanfiction.
I wrote a lot about the pain of writing so far. That is, perhaps, partly because one of my characters, living in my head, is a dark and sinister bastard who is giving me a hard time right now. Go take a shower.
Ok. This morning, while folding my laundry, I mused over the question why I am blogging in English. I'm writing in German, so am I adressing the wrong audience? Shouldn't I rather blog in German, to attract an audience that would, someday, perhaps, buy my book? Um, no. First, I'm not blogging to sell a book that isn't even finished and may never find a publisher. Second: I hardly ever read german blogs, or books in German (unless they're written in German, that is). I don't do translations, because there is something lost in every translation. I want  to get the whole package. Don't get me wrong, I love the German language. And even though I have situations where I know exactly what I want to say, I know exactly the right word, only it's English in my head and I have to look up a german equipollent, I couldn't write in any other language. But I read mostly English.
My husband, whom I got A song of Ice and Fire for Christmas 2011, still hasn't finished the first book, and he never will, because I got the English edition (Imagine, they divided the books into parts for the German market, and one book costs as much as all the paperbacks in English toghether!).  "I'm German," he said, "and I want to read in German." I think that's code for "It's too difficult for me because I haven't practised my English since I left school in the nineties." That's ok. I'm happy he reads at all (and everytime I mention in front of someone that he does, they go like "Are you sure? Isn't it possible he just holds the book to, I don't know, look occupied?" "No, he totally reads." Although he seems, in the eyes of most people, to come with all the loveable character traits ogres are known for, he is a reader. I wouldn't let him read my own writing, because he can be very, very judgemental and ogre-ish about it, and he already knows too much of what is going on in my head as it is, and he read eight books written by female authors in his whole life (Mary Shelly's Frankenstein and Harry Potter), but, as I said, I'm happy he reads at all.)
Well, considering my affinity to the English language and the fact that I'm mostly conversing in English in the world wide internet, it's only natural to blog in English. Even though I have to look up a few words now and then. I know them, I'm sure, but they just won't come out of their drawers. My brain is so cluttered. Just like my apartment.  And it's convenient to have the Net floating around and offering dictionaries.
Point is: Please forgive me my stupid mistakes and wrong spelled words. I'm deeply thankful that you spend your precious time with me and my incoherent rambling thoughts. Have a nice, sparkling day.
So yesterday, the peeps of Team NaNoWriMo asked on Twitter when we knew we were a writer.
Truth is, I still don't know. When I was 14 – and that is half a lifetime away now – I decided that I wanted to be a writer. I wrote, I even started my first book. I wrote short stories. One story even involved a love affair of some ordinary girl (me) and a vampire. Gosh, I could be rich by now. But alas. When I grew older, I thought it unrealistic to achieve my goal and really become a writer. I knew I could write, my texts were witty, funny, utterly sarcastic, but I never managed to actually finish a story. When I finished school, I still didn't know what I could do other than write. I thought about becoming a gardener, a photographer, a tailor. But after my last exams in school I realized I was pregnant. Every dream I ever had came to a halt. And since I didn't want my daughter to be an only child, I got pregnant again.
Then I had two kids and still no idea what I wanted to be other than a mom. I wrote about my daily adventures with my girls, and this made me realize again what the one thing is I do best. It may not seem that way, since English is not my first language, but I'm really good with words. Written words, anyway. Make me talk in front of real people and I stumble over that slippery puddle of quirky sentences in my head.
So, when I was 25 and my girls both in Kindergarten, I started studying German Language and Literature. Right the first academic told us that we're wrong here if we wanted to write. I followed through anyway, got my degree with two kids and everything in six semesters like a normal student, and I wasn't even bad. And although I love books, I love literature, I came to deteste the pretentious academical world.
But that first academic was not totally right with his statement. I learned a few things about writing. Not technique, but how to research and how to endure the bleakest and most stressful times, and those two abilities were the most precious to me. But my final lesson, the one that showed me that I really am a writer came shortly after I finished studying. I submitted a short story to a prose writing contest of my alma mater in coop with a scientific publishing house, and I made third place. My story got published, and so I could call myself a published writer.
The lesson I learned there was that I had to dare to be a writer. The daring part is the most difficult for me. Since I finished studying, I wrote down first drafts for two novels, from beginning to end, and NaNoWriMo helped me a lot there, in showing me that I really could write a book from start to finish. But I haven't submitted my manuscripts anywhere. I haven't looked for agents or publishers. Yet. The daring still is the biggest difficulty.
But there is never a challenge so big you can't get past it. That's another lesson I took with me from my studies. You may think there's no possible way you can do this, but you can, if you only dare.